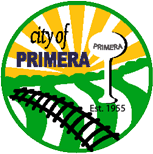 Primera is a growing little city. It got a late start toward growth, but it was once "first" in the minds of many back in the early days of the valley.

Primera is in what was formerly known as the Wilson Tract, which was a part of the land designated as "Cameron County School Land" in 1882. The tract was listed as Survey 25, 26, 36 and 37 in 1902 as part of this area development program.

In November of 1908, a retired doctor named Pierre Wilson, and Frank Kibbe bought Survey 25 from Hill. He had paid about $1.00 an acre or less. Wilson and Kibbe paid about $13.00 an acre. They immediately hired A.W. Amthor, engineer and surveyor of La Feria, to survey the tract and stake it out in 40-acre blocks, numbering from 1 to 110. The land was put on the market, and "Homeseekers" began coming in and buying it. The land was now priced at $150 an acre – in the brush.

Dr. Wilson built a home over to the Northeast on land that was slightly elevated, as a retirement home for his wife and himself, but he did not live very long. His wife had him buried in the corner of the yard. The grave still was there when the Payne family bought the block of land three or four years later. Mrs. Wilson later had his remains moved and reburied upstate where she was then making her home.

The tract of land was given the name Wilson Tract in honor of the old doctor, and was called that until the railroad came through early in 1912. The folks of the community could not call the station "Wilson" because there already was a Wilson in Texas. The railroad officials gave the station the name Primera, for it was the "First" stop out of Harlingen, heading west. Primera, of course, means first in Spanish.

A two-story brick school had been built in 1915 at the center crossroads, two churches organized and buildings erected. There also was a store a few years later. This was the nucleus of what later grew into a little town. Additions to the school were made in 1926.

A packing shed was later built by the railroad. Cabbage, carrots, tomatoes and other vegetables were shipped from Primera for several years.

During the bandit trouble, a few soldiers were sent out from the camp near Harlingen and they stayed in a barn belonging to Doc Lyles. But there was little trouble right in the neighborhood although people were jittery and on the alert. Some slept out in cornfields, just in case.